Dexe Black Hair Shampoo – Best Hair Color in Minutes
Instant Black Hair Shampoo Maintain Hair Color for Two Months 5 minutes for Men and Women.
SAFE INGREDIENT: Natural plant formula, no pollution, no contamination of scalp, natural effect, no hair injury.
COVER WHITE & GREY HAIR: Counter the signs of age and forget white and grey hair. Simply apply a dose of this great instant Black Hair Shampoo and look as young and vivid as you feel!
SAVE TIME & MONEY: Forget long and costly visits to hair salons. You can now dye your hair quickly and easily at home by yourself and save a ton of money!
SHAMPOO ENHANCES VIBRANCY AND SHINE: Temporarily intensifies the look of hair color. Black Hair Shampoo helps preserve and intensify the brightness of hair color.
QUICK & EASY TO USE: All you have to do is wear the gloves we have thoughtfully included, apply the instant hair dye on your wet hair, massage for 10′-15′, so that the Black Hair Shampoo covers your whole hair and scalp, and rinse well.
Dexe Black Hair Shampoo 25 ml – Best Hair Color in Minutes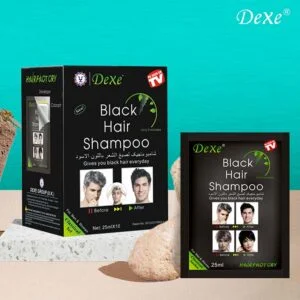 How to Use Dexe Black Hair Shampoo – Best Hair Color in Minutes :
Make your hair wet with both your hands.
Wipe off the water on the hair.
Promptly put the hair color shampoo on the hair and rub it.
Wash the hair color shampoo away.
The hair will become dark and shining.
? See other products: Click here