Pulse Oximeter BD, A pulse oximeter is a medical device that indirectly monitors the oxygen saturation of a patient's blood (as opposed to measuring oxygen saturation directly through a blood sample) and changes in blood volume in the skin, producing a photoplethysmogram that may be further processed into other measurements.
Pulse Oximeter BD
Pulse oximeter bd is a test used to measure the oxygen level (oxygen saturation) of the blood. It is an easy, painless measure of how well oxygen is being sent to parts of your body furthest from your heart, such as the arms and legs.
What does a pulse oximeter tell you?
➡Pulse oximetry bd is a test used to measure the oxygen level (oxygen saturation) of the blood. … The probe uses light to measure how much oxygen is in the blood.
Are pulse oximeters accurate?
➡The oxygen level from a pulse oximeter bd is reasonably accurate. Most oximeters give a reading 2% over or 2% under what your saturation would be if obtained by an arterial blood gas. For example, if your oxygen saturation reads 92% on the pulse oximeter, it may be actually anywhere from 90 to 94%.
What is normal oxygen level?
➡Normal arterial oxygen is approximately 75 to 100 millimeters of mercury (mm Hg). Values under 60 mm Hg usually indicate the need for supplemental oxygen. Normal pulse oximeter bd readings usually range from 95 to 100 percent. Values under 90 percent are considered low.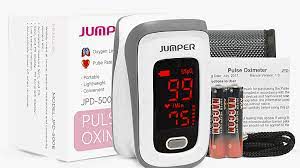 What are the 2 readings on a pulse oximeter?
➡ A pulse oximeter is a handy medical device that uses two frequencies of light – red and infrared – to determine the percentage of hemoglobin in the blood that is saturated with oxygen, or your oxygen saturation level. When oxygen saturation is measured using a pulse oximeter, it is referred to as Sp02.
Pulse Oximeter BD ডেলিভারী পদ্ধতিঃ
সারা দেশে ডেলিভারী দিয়ে থাকি, কোন ডেলিভারী চার্জ নেই।
ঢাকা সিটির বাইরে ২০০ টাকা অগ্রিম বিকাশ করতে হবে।
আপনার কাছে ২৪ থেকে ৪৮ ঘন্টার মধ্যে আপনার পন্যটি পৌঁছে যাবে।
আমরা সারা বাংলাদেশে এস,এ পরিবহন, সুন্দরবন, করতোয়া, জননী, কুরিয়ার এর মাধ্যমে কন্ডিশনে ডেলিভারি করে থাকি।
আপনার এলাকাতে কোন কুরিয়ারে কন্ডিশনে ডেলিভারি অপশন না থাকলে সম্পূর্ণ টাকা অগ্রিম বিকাশ করতে হবে।
বিকাশ নাম্বারঃ 01711964877 (পারসোনাল)। বিকাশ করে অবশ্যই 01711964877নাম্বারে কল করে আপনার অর্ডার করতে হবে।
Important Notice:
ডেলিভারি ম্যানকে আগে টাকা বুঝিয়ে দিয়ে প্রোডাক্টটি বুঝে নিবেন।
ডেলিভারি ম্যান থাকাকালীন প্রোডাক্ট চেক করুন।
চলে আসার পর কোনো অভিযোগ গ্রহণ করা হবে না, কোনো প্রোডাক্ট চেঞ্জ অথবা রিটার্ন হবে না।
? Follow us: