ACOVESTA Back Pain Belt
ব্যাক পেইনে ভূগছেন?? সামন্য বসে থাকলেই পেইন বা বেশি টাইম বাইক চালাতে গেলে পেইন হচ্ছে?
ব্যাক পেইন এর জন্য সব থেকে কার্যকরী লামবার এল,এস বেল্ট।
পেছনে রয়েছে লোহার পাতের সাপোর্ট।
উপর সুন্দর ও মোলায়েম ফেব্রিক্স দিয়ে বানানো।
এটা পরে যে কোন কাজ করতে কোন সমস্যা হয় না।
খুবই হাল্কা ও সফট হওয়ায় দীর্ঘ টাইম পরলেও ঘামে না।
রয়েছে দুই স্তরে প্রটেকশান।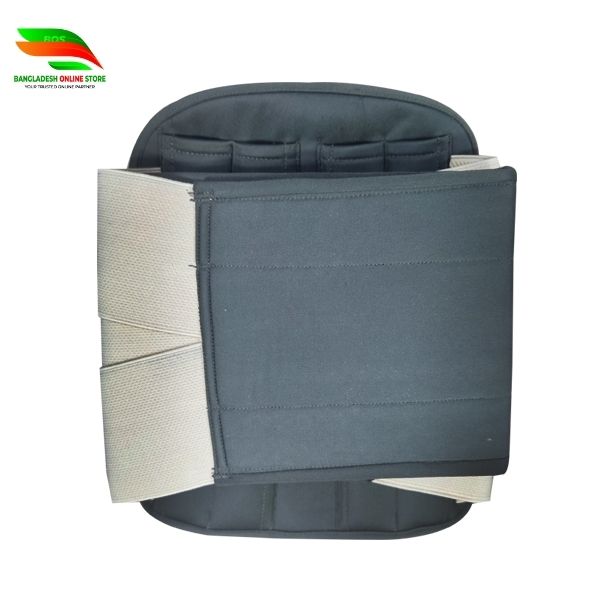 ACOVESTA® Lumber back support is scientifically designed to support and immobilize the lumbosacral region and correct the postural deformity to allay low back pain syndrome. Anatomically shaped splints ensure immobilization in an anatomically correct and comfortable posture.
How to use: The belt is wrapped around the waist. Keeping it upright. The back panel is placed in the center of the vertebral column, with the lower edge of the belt coinciding with the nape of the spine. Close hook loop fasteners to a comfortable compression. Stretch and fasten the double pull strap, using the reverse buckle mechanism for added grip and firmness of the splints.
Construction: Made from extra-strong orthopedic elastic containing heat-resistant rubber modulus of elasticity. Hook loop closures provide fitting of the belt around the waist, it's quick easy application and removal. Rigid, pre-shaped metallic splints, integrated into the back panel provide firm immobilization in an anatomically correct and comfortable posture. The double pull reverse buckle mechanism allows extra compression and firm grip to the L.S. region.
Instructions:
Use the products under the strict guidance of a qualified doctor.
Adjust padding and strapping for a secure and comfortable fitting.
Discontinue use and seek the guidance of a qualified doctor, in case of –
Impaired sensation.
Impaired blood flow.
Allergy rash or itching.
Pain increases or persists.
Consult your doctor in case of concurrent use of the device. Excessive physical exertion can lead to restriction of performance of heart and lungs (risk of rising in blood pressure).
Misuse or improper use of the device can lead to adverse effects and decreased effectiveness.
The product should preferably be worn over a cotton lining or undergarment.
Follow the instructions mentioned in the box carefully.
Keep out of reach of children.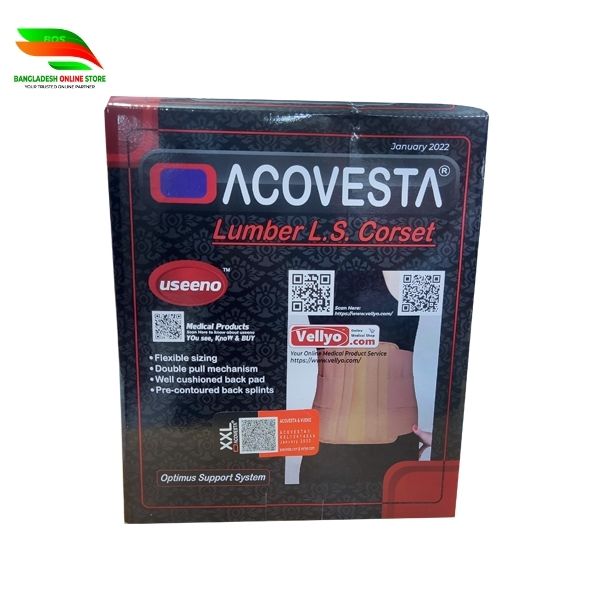 ACOVESTA Back Pain Belt
Application:
Lumber spondylitis.
Intervertebral disc syndrome.
Post discectomy care.
Osteoporotic pain of the lumbar spine.
Low backache, postural fatigue, postural deformities, and mechanical stresses due to poor posture.
Comfort during long working hours and travel.
Stabilization during vertebral fracture and injuries.
Degenerative changes of the lumbar spine.
Weakened abdominal muscles.
Product Care:
It is recommended to close hook loop closures before washing.
Hand washes with mild detergent and water below 30˚C without wringing.
Dry in shade on a flat surface.
Do not dry clean.
Do not iron.
Do not bleach.
Flexible sizing
Double pull mechanism
Well-cushioned back pad
Pre-contoured back splints
ACOVESTA Back Pain Belt
Shipping & Delivery:
Dhaka City Home Delivery: 1-3 Days
Outside of Dhaka Home Delivery: 3-5 Days
Delivery Partner:
SA Paribahan
Sundarban Courier
REDX
Paper Fly
Shop easier and get delivery faster.
Follow: Facebook | See another product: Beauty and Grooming
ডেলিভারি ম্যানকে আগে টাকা বুঝিয়ে দিয়ে প্রোডাক্টটি বুঝে নিবেন। ডেলিভারি ম্যান থাকাকালীন প্রোডাক্ট চেক করুন। ডেলিভারি ম্যান চলে আসার পর কোনো অভিযোগ গ্রহণ করা হবে না, কোনো প্রোডাক্ট চেঞ্জ অথবা রিটার্ন হবে না। কোনো সমস্যা থাকলে ডেলিভারি ম্যান থাকাকালীন আমাদের কল দিবেন।
Disclaimer: Product color may slightly vary due to photographic lighting sources or your monitor settings.