Prime Test Price in Bangladesh | Prime Test Testosterone Booster
Prime Labs – Men's Testosterone Booster
Made in USA
Optimized physical performance: Suffering from low test impacts energy, strength, and stamina, which is why Prime Test is a natural test booster that revitalizes and restores your manhood.
Build stronger, leaner muscles: A daily supplement that naturally increases test levels, you can melt away belly fat while having more energy to create lean, healthy muscles.
Improved mood: Prime Test can give you the stamina, confidence, and improved circulation you need to perform better physically.
Healthy, natural formula: Our formula contains only the best natural ingredients, including Horny Goat Weed, Tongkat Ali Extract, Saw Palmetto Extract, and other essential health boosters.
Made in the USA: Prime Labs products are highly-tested to ensure quality and developed right here in the United States. That means youâ€re not only getting the best test booster but one you can trust.
Note: Statements regarding dietary supplements have not been evaluated by the FDA and are not intended to diagnose, treat, cure, or prevent any disease or health condition.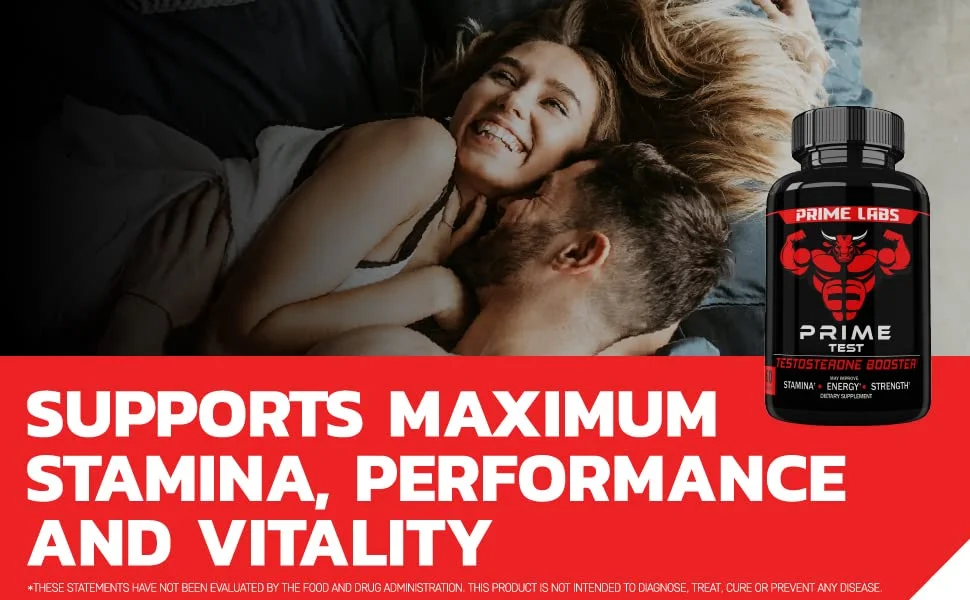 Prime Test Price in Bangladesh | Men's Testosterone Booster
Here at Prime Labs, we strive to create high-quality products that enhance one's performance and overall well-being. Relying on profound insights into safe and potent ingredients, Prime Labs offers a robust portfolio of premium supplements.
Prime Test Testosterone Booster – specially formulated to help you increase your energy and stamina! Our effective formula works by increasing nitric oxide levels inside your body, resulting in more nutrients getting to your muscles. Therefore, achieving better recovery, better pumps, and muscle structure.
The optimal nutrition for bodybuilding and athletes, Prime Labs Prime Test is a safe and potent supplement that can help support your energy and muscle build-up during your workouts. All of our ingredients have been responsibly sourced and carefully selected with one purpose – to help your body reach its potential and have total control over your workout.
Optimize your inert potential for maximum muscle-building and fat loss. Prime Labs Prime Test Testosterone Booster helps support muscle building by promoting muscle fullness during your training and reducing muscular breakdown. Furthermore, our Testosterone Booster can help you unleash amplified energy, focus, and may provide enhanced endurance in order to aid you in reaching the pinnacle of your workout.
Safety Information
Consumption of herbal ingredients may cause allergies in certain individuals, please check with your physician before taking any herbal supplements. If you have a history of allergies to herbal ingredients, do not consume this product. Side effects may include anxiety and heart pain for those with allergies. This product is not intended for pregnant or lactating women, adolescents under 18 years of age, individuals on a restricted diet, persons with high blood pressure, or heart problems. If you have a known medical condition you should consult with a healthcare professional before using this or any dietary supplement.
Ingredients
Calcium (as Calcium Carbonate), Horny Goat Weed (Leaf), Tongkat Ali Powder (root), Saw Palmetto Extract (fruit), Orchic Substance, Wild Yam Extract (root), Sarsaparilla (root), Nettle Extract (root), Boron Amino Acid Chelate, Microcrystalline Cellulose, Sodium Starch Glycolate, Stearic Acid, Magnesium Stearate, Silica.
Directions
Take 2 caplets by mouth 1-2 times per day.
Prime Test Price in Bangladesh | Prime Test Testosterone Booster
Shipping & Delivery:
Dhaka City Home Delivery: 1-3 Days
Outside of Dhaka Home Delivery: 3-5 Days
Delivery Partner:
SA Paribahan
Sundarban Courier
REDX
Paper Fly
Follow: Facebook | See another product: Health Care
Warnings:
Not intended for persons under the age of 18. Do not use if pregnant or nursing consult a health care professional prof to consumption if you have any preexisting medical conditions or are taking any prescriptions medication. Do not consume any caffeine or stimulants. Improper use of this product will not improve results and is potentially hazardous to a person's health use only as directed.
KEEP OUT OF REACH OF CHILDREN
These statements have not been evaluated by the Food and Drug Administration. This product is not intended to diagnose trial over, or prevent any disease.
Prime Test Price in Bangladesh Prime Test Price in Bangladesh Prime Test Price in Bangladesh Prime Test Price in Bangladesh