Air Bra is a very Soft & comfortable bra designed for women after long research by scientists taking special care of all types of breasts. It gives full coverage and adjust easily with comfort.
Air Bra 3pcs – Best Comfortable Air Bra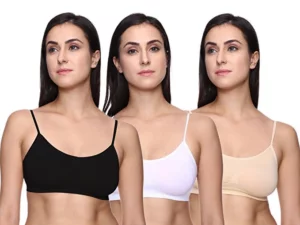 What are seamless bra?
What is a seamless bra? Seamless bras are typically designed to provide the wearer with a smooth profile underneath clothing. The garment is constructed on a machine that is programmed to knit the bra in one piece. Specific measurements are entered into the machine to control size, density and strength of the garment.
Air Bra – No Hooks, No Straps, No More Bra Line Bulges Full coverage cups custom fit to any size, keeping everything in place. Now no more embarrassing back fat, shapeless curves & painful wires.
Seamless Aire Bra shapes, supports and styles for the most flattering figure ever. Its soft and stretchable Air Knit fabric allows your skin to breathe & it feels like wearing another skin. 3 Bras for the price of one! Available in three Colors.
Air Bra Features:
It gives full coverage and adjust easily
Gives a proper shape to all sizes
Ultra comfortable, boots confidence
Machine washable and safe for machine drying
Highly durable in terms of form and color?
Does not have rolls and bra lines
It comes in three different sizes- Small, Medium & large
Can be used as sports bra as it can stretch at comfort
Perfect fitting to all shapes and sizes
Best quality fiber, contains 92% Nylon and 8 % spandex
Product Benefits:
1. Spilling out of cups that are too small
2. Bulging under the arms
3. Embarrassing back fat
4. Wires that pinch
5. Straps that fall down
What it includes:
Seamless set of 3 air bras are made available at a smart price of 2150 BDT.
? Follow us: